Get the Facts
What is a dental therapist?

Dental therapists, also known as dental health aid therapists, are licensed and/or certified providers that work under the supervision of a dentist. Dental therapists receive intensive training in a select set of the most needed routine dental procedures. Like physician assistants in the field of medicine, dental therapists are mid-level providers. They provide preventive and routine dental care, including exams, filling cavities, educating patients about oral health, cleaning teeth, placing temporary crowns, and performing extractions. Dental therapists are a vital, cost-effective part of the dental team that allow dentists to be able to perform more advanced care for a larger number of patients.



What education and training do dental therapists receive?

The Commission on Dental Accreditation (CODA) serves the public and dental professions by developing and implementing accreditation standards that promote and monitor the continuous quality and improvement of dental education programs. Under national CODA dental therapy accreditation standards, dental therapy students must receive at least three academic years (not including summers) of full-time instruction, including a clinical preceptorship experience. For specific areas of practice in which they overlap, dental therapists receive the same training as dentists.



Why are dental therapists valuable?

Over 75 million people in the United States live in areas with dentist shortages, and each year, more than 32 million children don't receive dental care. People of color, low-income families, those who are uninsured, and those living in rural locations are the most impacted. As experts in providing high-quality, affordable oral health care, dental therapists address critical gaps in access to dental health care. Moreover, clinics that incorporate dental therapists into their care team demonstrate increased access to oral health care for underserved patients. This means more Americans receiving the oral health care they deserve.



How can dental therapists close the oral health equity gap?

Access to routine dental care should be a right, not a privilege. Dental therapists help expand quality care by allowing dental clinics to see more patients. This can also decrease patient wait times. Plus, the reimbursement value of the care dental therapists deliver has been demonstrated to far exceed the costs of their employment.



Where do dental therapists work?

Dental therapists can work in traditional dental offices and clinics, or in community settings, such as schools, nursing homes, and mobile clinics. The map below indicates which states have authorized dental therapy in some or all settings.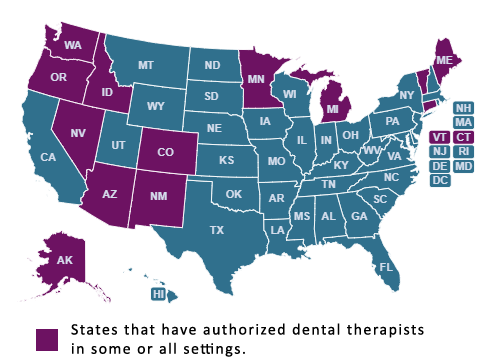 For a detailed representation of the specific state-by-state requirements that define dental therapy practice, click here.



What programs offer training to dental therapists?

There are currently five dental therapy programs in the United States, one in Alaska, one in Washington, and three in Minnesota. Three of these programs are CODA accredited.
Who supervises dental therapists?

Dental therapists are supervised by dentists, but they also have a great deal of autonomy in their practice. Levels of supervision of dental therapists vary by state; however, in most cases, dental therapists are able to provide services without the supervising dentist being on site when services are provided and without prior examination and diagnosis by a dentist. For guidance on dental therapy administrative rulemaking, view this best practice guidance developed by the Pew Research Center.



Where is dental therapy practiced?

The Alaska Native Tribal Health Consortium and community activists helped introduce dental therapists to the United States in 2004. Shortly after, in 2009, Minnesota approved statewide legislation to authorize dental therapists. Today 14 additional states, including Maine, Vermont, Oregon, Washington, Arizona, Michigan, Idaho, New Mexico, Connecticut, and Nevada have dental therapy laws in place, and 8 states are considering legislation.



How can I incorporate a dental therapist into our dental team?
There are several successful models. To learn more, consider taking this short course on how to optimize your dental team with dental therapists. It will help you become more familiar with the role of dental therapists and the benefits they bring. Also, consider reaching out to us. Our dedicated staff can answer your questions and provide you with the support you need.



Thinking about becoming a dental therapist?

Your education is a priority to ADTA. Learn more here or email us for more info. We can answer your questions, discuss the application process, and set you up for success.